Air Freight from/to Dominican Republic
"EFFICIENT AND TIMELY DELIVERY OF GOODS AND SERVICES ARE THE FOUNDATION OF ANY SUCCESSFUL INTERNATIONAL BUSINESS", INTER-CARGO provides a variety of general air freight services from most origins to any destination in the world.

Air Freight Services from/to Dominican Republic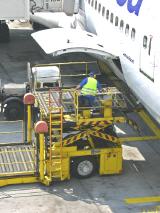 INTER-CARGO's Logistics' domestic and international air freight forwarding staff will make sure that your shipments move where you want them to go and arrive when you need them to be there. Expedited, Consolidations, HAZMAT, and Import/Export shipments offered.
Whether there is a need for consolidated or direct air freight forwarding service, our expert professionals

are ready to route your goods to or from almost any point in the Dominican Republic. Due to an ever increasing demand for shorter transit times internationally, we utilize premium air freight carriers with established routings for our consolidations. Many different options are available for the most competitive and reliable air freight forwarding service.
Urgent Air Freight
When you need your goods moved in the quickest possible transit time, this is your best choice. As the name suggests, your freight is placed on the first flight out and receives a priority service, through to the destination airport and beyond.
Economical Air Freight
When your priority is to keep the cost of moving your goods to a minimum, but your freight must travel by air, then perhaps this is the ideal match. It is designed for less time-sensitive cargo, where a slight increase in transit time is acceptable, and provides an economical alternative. To achieve the most competitive price, Intercargo ensures cargo is creatively routed via the major gateways.
Flexible, Day-definite Air Freight
When you demand a fast service within a fixed budget, then Intercargo Individual Service is the choice for you. Intercargo Individual Service consolidates your freight to improve economy, and ensures that it arrives when it's needed, at airports in all major trading centers, inside and outside from Dominican Republic!